What is model risk defense?
The process to define, develop, validate, and release a new model into production is often referred to as the model development life cycle. This life cycle is divided up in three areas of responsibilities or as it is referred to in the Financial Services industry - three lines of defense.
These responsibilities are divided between three organizational roles - 1st line, 2nd line, and 3rd line of defense - that are tasked to manage a model's life cycle and risk.
For information about how ValidMind handles your personal data, please see our
privacy policy
.
ValidMind Supports The Entire Model Risk Organization
At ValidMind we are committed to supporting the entire Model Risk organization by providing them with modern industry-leading tools, as well as superior service and support. For more information about our solution or if you have questions about how to best reach us, please visit How to Contact Us.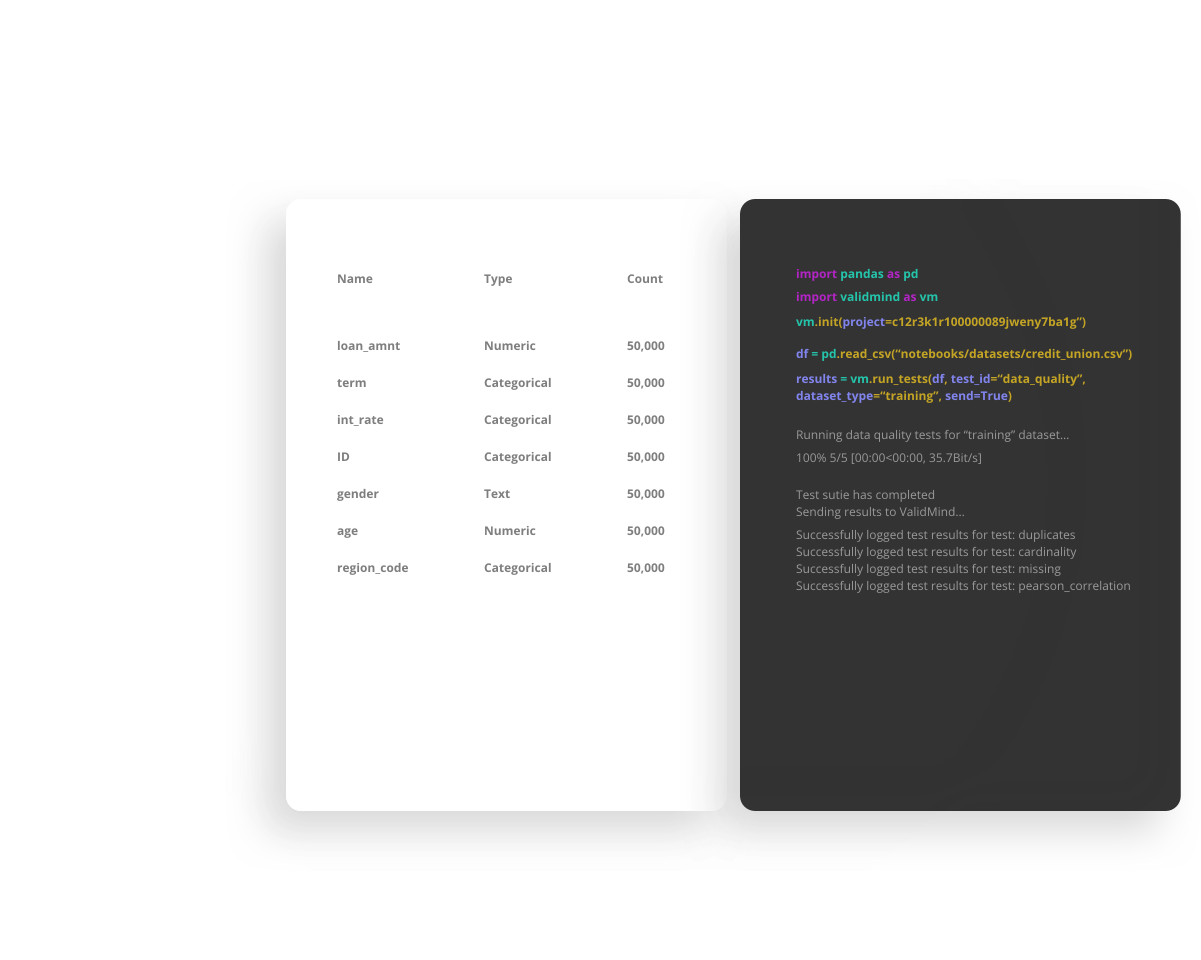 The 1st line of defense is the responsibility of the model business owner and the model developer.
This group defines the business requirements and translates them into model proposals, gathers, cleans, and formats data that will be used within the model, and develops and extensively tests the model to ensure it delivers the intended business use case output. They are also responsible for documenting any results, testing, and assumptions applied to the model.
Documentation & Test Automation

ValidMind is the single platform to collect, manage, and automate your model documentation and testing.

With ValidMind developers choose their way of working and their preferred choice of platform.

Faster Go-To-Market Deployment

With ValidMind developers and validators can work in unison to ensure that the final approval process is a simple sign-off.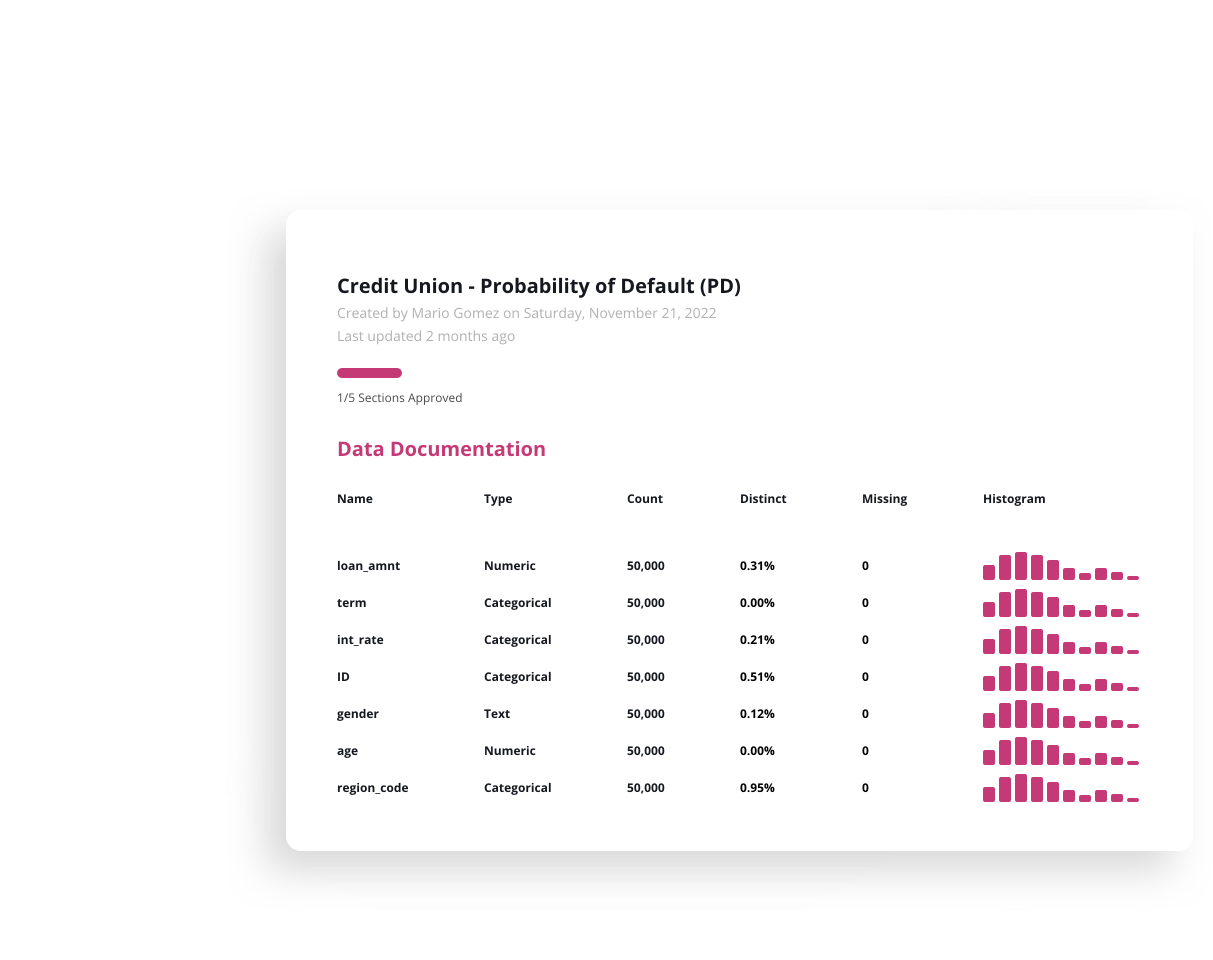 For Model Validator Teams
The 2nd line of defense is the responsibility of the model risk management and validation team. This team assesses the model risk independent of the team that built the model (and thus created the risk exposure).
The validation team reviews and evaluates the model and the model documentation to ensure it complies with commercial and regulatory requirements and that the model delivers on the intended business use case subject to regulatory requirements. The validation team must also challenge the assumptions made by the model developer before approving the model for production deployment.
Centralized, Consolidated View

ValidMind offers a consolidated view of all your model projects, communication with model developers and the model review workflow.

Effective & Systematic Model Validation

Our interactive dashboard helps you identify top model risks, collaborate to improve models, and increase model workflow efficiency.

ValidMind helps you create documentation templates for each model use case. This makes it easy to generate reproducible and regulatory-compliant documentation for every model.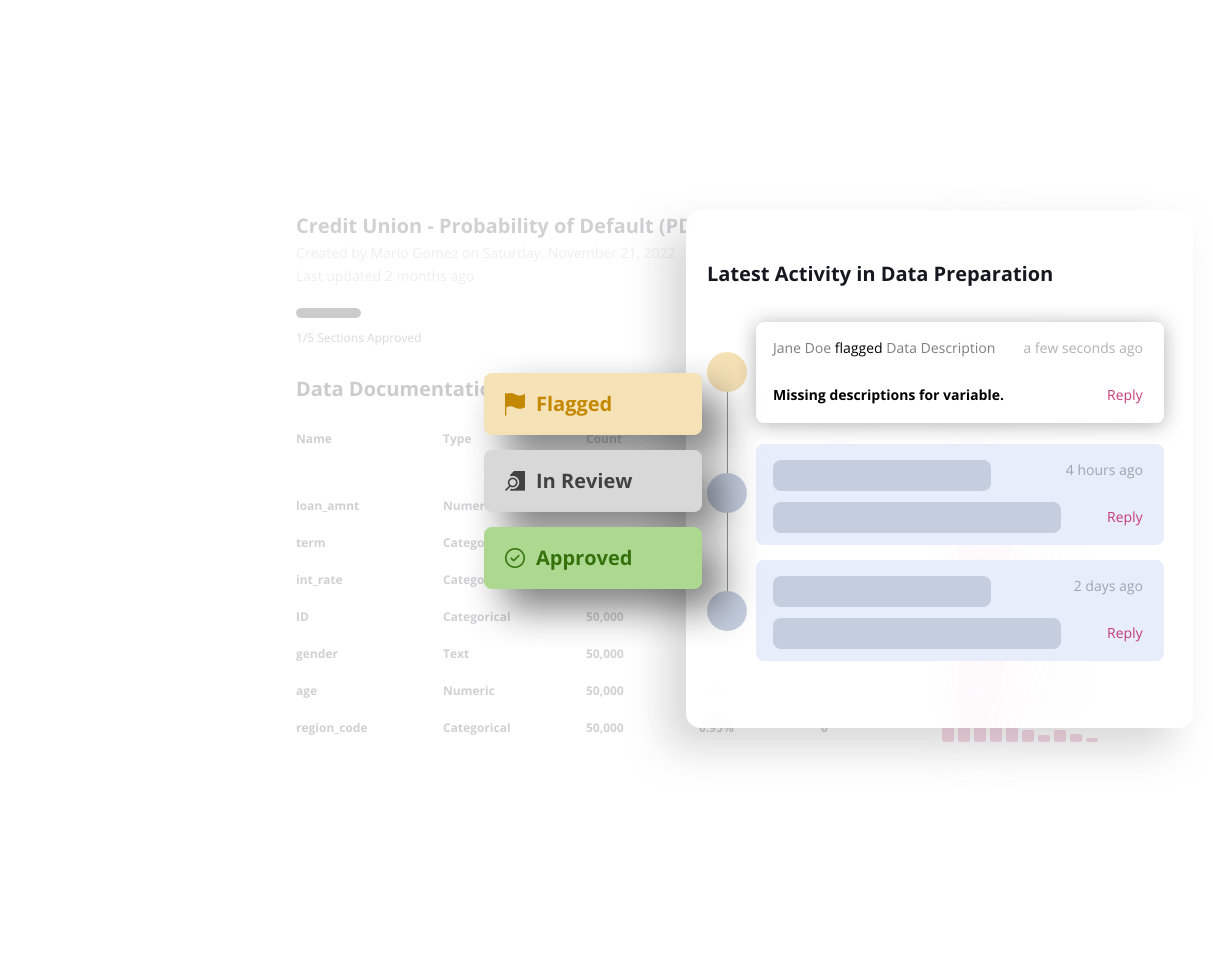 The 3rd line of defense is the responsibility of internal and external auditors, as well as regulatory bodies (such as the Federal Reserve or FDIC in the US).
Full Audit Trail & Governance

With ValidMind all documentation, validations, communications, and specifications, including any modifications, are recorded for audit purposes.

Easy export of any audit trail to preferred formats, such as PDF.